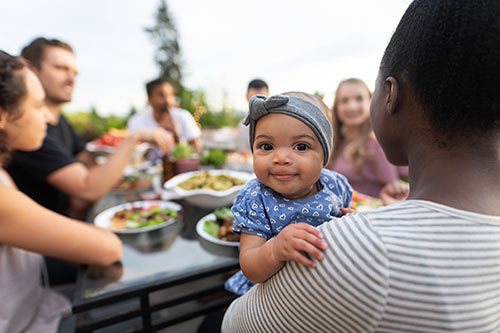 Many hopeful Christian adoptive parents wonder if they should plan a baby shower once they have been matched with a birth mother. It's natural to want to celebrate with friends and family as you prepare for your new addition, but there is still a lot of uncertainty at this point in the adoption process.

What if the birth mother changes her mind? Remember, you will not be her child's legal guardian until after the revocation period has ended. You risk setting yourself up for disappointment if you plan too much before your adoption is finalized. It's also important to be respectful of your birth mother's feelings as you nurture this special relationship in your open Christian adoption.

God has a plan for your Christian family, but His timing might not always line up with your wishes. It's best to be patient and flexible during your adoption journey, which is why hosting a sip and see in lieu of a traditional baby shower may be the perfect alternative for you.

What is a Sip and See?
A sip and see is a southern tradition that is becoming more popular, especially with adoptive families. This casual party is planned after your baby arrives. Your family and friends can ooh and ahh over your new addition as they sip on beverages and snack on light fare.

Due to the CDC's current recommendations on physical distancing, you might consider planning your sip and see celebration for later this year or even next year. Or, you could host an outdoor sip and see, with masks required.

What Are the Benefits of Planning a Sip and See?
Christian adoptive families enjoy several benefits from planning a sip and see. As new parents, you are likely to be in constant motion and exhausted (That's life with an infant!), so the casual nature of the party will be more convenient for you and your new baby. Here are three other benefits of planning a sip and see:
See Everyone at Once – When your new baby arrives, you may want some alone-time in the beginning to bond as a family. Planning a sip and see will reduce pop-ins or a revolving door of visitors who are eager to meet your baby. You don't need the stress of entertaining guests or keeping the house clean for surprise visits. Once you have given your well-meaning family and friends a date to mark on their calendars, you can relax and enjoy this precious time with your new Christian family.
No-Limit Guest List – While traditional baby showers tend to be women-only events, there's no limit on who you can invite to your sip and see. Everyone will want to meet your new baby, so feel free to invite whole families, including children.
Gifts Still Included – Your loved ones will still want to shower you with gifts, even if you don't plan a baby shower. You will likely acquire the bare necessities before the sip and see, so fill up your registry with items like larger-sized clothing, toys for older babies or toddlers, and baby equipment you won't need until your child is a little older, such as a high chair or an exersaucer. Your guests can still welcome your new baby with a gift, and you don't have to stress about organizing a mountain of baby supplies all at once!
If you already have everything you need, you can ask for gift cards or encourage your guests to donate to a non-profit organization close to your heart.

How Do I Host a Sip and See?
Sip and see parties are casual and flexible, so you have plenty of options. You may choose to host the party yourself, or a friend or family member may want to host it for you. Here are some tips to help make your sip and see an enjoyable experience for everyone:
Venue – You may want to host your sip and see in the comfort of your own home, or you may choose a different venue. There are benefits to both options. At home, you have all of your baby's essentials at your fingertips, and the nursery is right there when it's nap time! Hosting your sip and see at a venue may relieve some of the planning stress, and you won't have to worry about cleaning up.
Themes – Feel free to scale back on decorations for this low-key event. You might keep to a simple color theme for tablecloths and balloons or the theme you chose for your baby's nursery. You could also have a little fun with the food by serving "mom-mosas" or offering baby bottle-shaped cookies as a party favor.
Start and End Time – Remember, you are on your baby's schedule now! Don't hesitate to let your guests know when your sip and see will end. If having all of your loved ones over at once feels too overwhelming, you could also stagger your times throughout the day, or plan sip and see parties on different days – one for family, one for friends, one for coworkers, etc.
Games and Activities – While there is no need for traditional baby shower games, you can still plan some activities that are both fun and useful for new parents.
A diaper derby is a great way to stock up on those essential diapers while showing appreciation for your guests. Give your guests a raffle ticket for every box of diapers or wipes that they bring to your sip and see. At the end of the party, draw a few tickets and award small prizes or gift cards to the lucky winners.

You can also create a simple book-making station. Provide blank pieces of cardstock, markers, and scrapbooking decorations, and invite guests to create a message or a prayer for your new baby. At the end of the sip and see, fasten all of the pages together with binder rings, and you have a priceless keepsake for when your child is older.

An adoption sip and see is a beautiful way to introduce your baby to the world. As you celebrate your growing Christian family, just be mindful of your birth mother's feelings, and think before sharing pictures and videos on social media. Keep it simple, and soak in all the love for your new baby.
Written by Lifetime Christian Adoption